Mudlarks II Update
Overview
During the Autumn term 2020 we ran the Mudlarks Project II with 5 schools in LBHF. This project built on the success on the Mudlarks I and our Summer challenge while dealing with delivering the project with social distancing. We delivered the project remotely through live online and recorded sessions and even manage to lead a visit the canal with a school!
Mudlarks II School Work
We delivered online lessons (live and recorded) to Yr. 4 and Yr. 5 classes from St John's XXIII, Normand Croft and St Augustine's schools and we worked with eco-clubs from Miles Coverdale and Fulham Primary schools.
Children had the opportunity to learn more about the good and bad things about plastics, why is plastic pollution is such a problem, what can we do about plastic pollution and make posters or art or create a song about plastics.
Children from St John's had the rare chance to visit the grand union canal in Hammersmith (see picture above and below), some of them for the first time, and see what the canal looks like and explore the issue of plastic pollution in our waterways.
Unfortunately, we did find lots of plastic pollution in the canal. On the plus side, our director Moya saw a group of volunteers further down the canal picking up the plastics from the canal with support from the Canal and River trust, but surely we all must do more to stop plastic reaching the canal… something we discussed and addressed by making relevant posters with St John's students.


Mudlarks Eco-schools
Building on the success of Miles Coverdale's involvement with Mudlarks One in 2019, we began working towards helping them get Eco Schools accreditation. We started to look at 10 different climate/environmental topics, including Energy use in the school, biodiversity in the school grounds, food waste, healthy living as well as a plastic reduction campaign . We undertook a range of activities around this including an energy audit, making bird feeders, mindfulness, planting seeds, food waste awareness. We are also built on ways of reaching the wider school community, making videos and posters to share the message with others.
Fulham Primary had a mini Eco Club programme, with 6 weeks of sessions where we mainly looked at plastic pollution generated as a result of Covid-19. The children were shocked at the amount of discarded masks and gloves littering our streets and started to make plans to design and make their own reusable school face mask. We developed the slogan 'Choose to reuse' as a reminder to not opt for single use masks.
Activities, Resources, Inspiration
We started the programme by watching the amazing The Wonder of Plastic short film by the BBC Plastic Watch to learn how the very things that make plastic great can also pose a huge challenge for the environment and discussed how plastic during the Covid-19 pandemic has saved lives while also creating further pollution.
In our first session, we also learned about different types of plastics, ocean garbage patches and discussed how best to reduce, reuse and recycle. We found very inspiring EXXPEDITION the all-female research expedition to investigate the causes of and solutions to ocean plastic pollution.
During our second session, schools did a canal trip (see above) or a virtual river visit while in Session 3 we looked at solutions. We saw innovative global solutions like Ocean Clean-up and discussed how we can help locally by doing a school or park (safe!) litter pick. We particularly liked what Kids Against Plastic are doing.
We spent the last two sessions learning how to take action and each school undertook a different practical activity. St John's XXIII planned a campaign to improve the canal and made some gran posters, Normand Croft made inspired dioramas while St Augustine's created a wonderful song and dance.


The eco-clubs at Miles Coverdale and Fulham Primary worked really hard doing rubbish surveys, creating nature boosters with reused plastic bottles amongst other things. We were very impressed by Fulham Primary idea of creating their own reusable fabric masks for the school community after finding too many discarded single use face masks outside the school.
We've been helped them deal with single plastics by supporting them on their Eco-School journey and hoping they become Green Flag Schools by the end of this year.
Further resources:
Learn more about what can be recycled in LBHF and what happens to your recycling.
Education resources from our recycling centre – The Western Riverside Waste Authority

Become a Plastic Clever School 
National Geographic Article about Plastic Pollution
Have a go at a Recycling maze or word search
Play some online games at CBBC Plastic Planet
Surfers against sewage plastic clever schools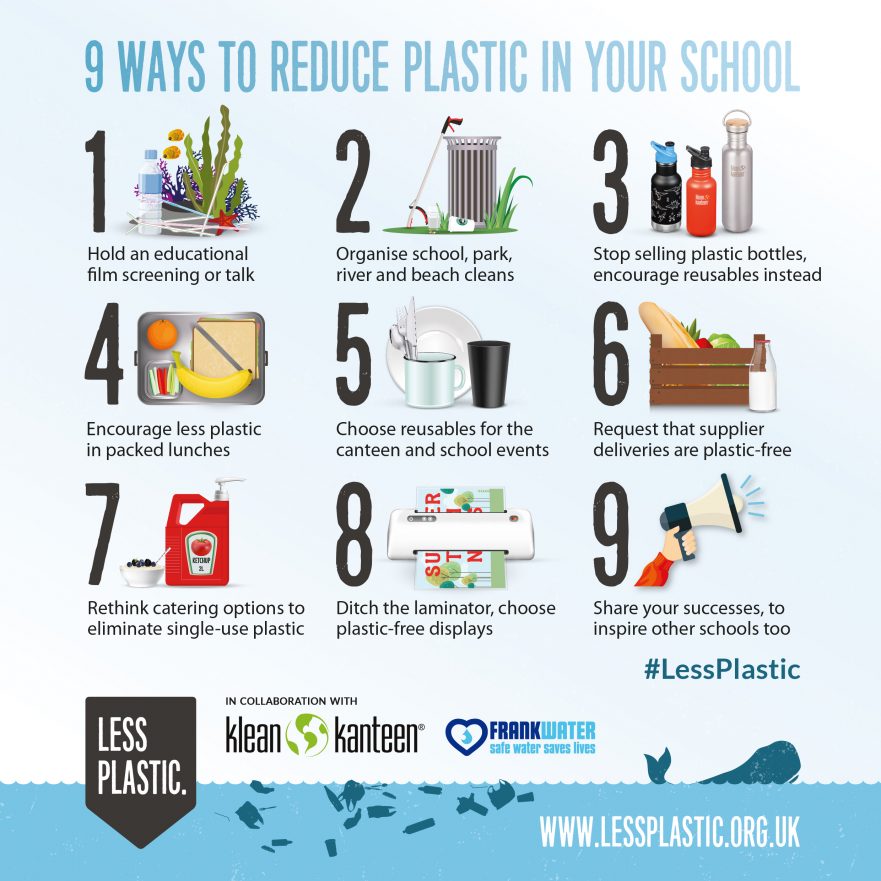 from https://www.lessplastic.org.uk/9-ways-to-reduce-plastic-in-your-school/